Bakkie sales in South Africa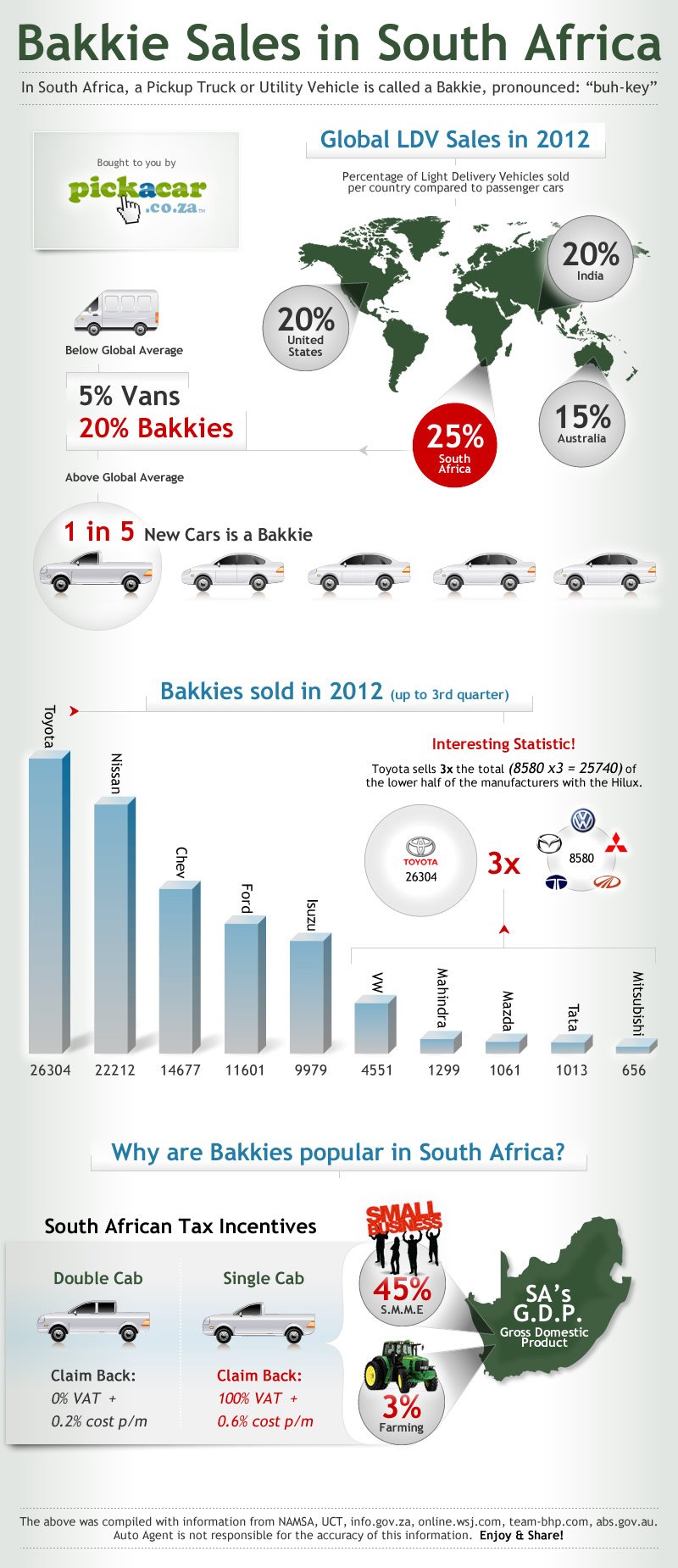 An insight into bakkie sales in South Africa.
Bakkies, also known as pickup trucks or utility vehicles, are incredibly popular in South Africa. This article takes an in depth look into what makes bakkies so popular and why we see so many of them on our roads compared to other countries.
Light Delivery Vehicles or LDV's account for 25% of all new car sales in South Africa, which compares favourably to other countries such as United States (19.5%), India (20%) and Australia (15%) based on the sales data we accumulated in our research*.
The total number of bakkies sold in South Africa from January till the end of September 2012 were 93369 units, therefore the humble bakkie makes up 20% or just over a fifth of South Africa's total new car sales and 75% of LDV sales! Just what is it that makes the bakkie such a popular choice for new car buyers?
It's not possible to drive on South African roads without seeing at least a half dozen bakkies wherever you go and this paints a vastly different picture from driving in most other countries.
This begs the question of which bakkies are the most popular. Below we list the bakkies in descending order of the total units sold this year up until the end of September 2012.
These statistics are from NAAMSA (National Association of Automobile Manufacturers of South Africa)

Top bakkie sales by model for 2012:
Toyota Hilux: 26304
Chev Utility: 14497
Nissan NP200: 13898
Ford Ranger: 10860
Isuzu KB: 9979
Nissan NP300 Hardbody: 6552
VW Amarok: 4551
Nissan Nivara: 1654
Mahindra Scorpio Pik-Up: 1134
Mazda BT-50: 1061
Tata Xenon: 764
Ford Bantam: 741
Mitsubishi Triton: 656
Tata Telcoline/Worker: 249
Chev Lumina UTE: 180
Mahindra Genio: 165
Nissan Hardbody: 108
Top bakkies sales by manufacturer for 2012:
Toyota (Hilux): 26304
Nissan (NP200; NP300; Nivara; Hardbody): 22212
Chev (Utility, Lumina): 14677
Ford (Ranger; Bantam): 11601
Isuzu (KB): 9979
VW (Amarok): 4551
Mahindra (Scorpio Pik-Up; Genio): 1299
Mazda (BT-50): 1061
Tata ( Xenon; Telcoline/Worker): 1013
Mitsubishi (Triton): 656
The
Toyota Hilux
has been top of the pile consistently throughout the year with the Chev Utility and NP200 dancing between second and third place. The latter two were a big surprise because one would naturally think the Ford Ranger and Isuzu KB would be in the top 3 because of their inherent size and power.
This makes one wonder why the Chevrolet Utility and Nissan NP200 are more popular. The reasoning is beyond the scope of this article but it's worth mentioning that it could be that they're more cost effective to maintain, their price is more affordable, or perhaps people just prefer the brands behind these bakkies.
Let's have a look at some interesting sales comparisons. The Toyota Hilux has sold a total of 26304 units so far this year and has sold 28.1% more units than the Chevrolet Utility which has sold 14497 units over the same period. The Toyota Hilux also sold 3384 units in its best month which is more than the combined units of the following bakkies sold in their best month.
Best Months Sales
Nissan NP300 Hardbody: 960
VW Amarok: 817
Nissan Nivara: 287
Mahindra Scorpio Pik-Up: 172
Mazda BT-50: 257
Tata Xenon: 144
Ford Bantam: 132
Mitsubishi Triton: 113
Tata Telcoline/Worker: 41
Chev Lumina UTE: 28
Mahindra Genio: 28
Nissan Hardbody: 44
On its worst month the Toyota Hilux sold more units than the combined units of the following bakkies in their worst month.
Worst Month Sales Combined
Isuzu KB: 800
Nissan NP300 Hardbody: 553
VW Amarok: 249
Ford Ranger: 228
Nissan Nivara: 108
Mahindra Scorpio Pik-Up: 68
Mitsubishi Triton: 41
Tata Xenon: 24
Tata Telcoline/Worker: 17
Mazda BT-50: 12
Mahindra Genio: 10
Chev Lumina UTE: 8
Nissan Hardbody: 1
Ford Bantam: 0
The Ford Bantam is the only vehicle in these sales figures that isn't in production anymore. It went out of production last year in November and the remaining units were sold this year, with the last few being sold in April. Ford doesn't look like they have any plans to replace the current gap in their range and this is confirmed by the lack of small ton bakkies in the overseas market.
It's clear to see that South Africans have an appreciation for bakkies and Toyota has firmly cemented their brand within our hearts with the Toyota Hilux. If you're in the market for a bakkie then you may be interested in looking at
our bakkies for sale
.
Why buy a Bakkie?
Firstly, government has always provided a tax incentive whereby you can claim all of the VAT back if you purchase a new
single cab bakkie
or LDV. The idea is that small and large businesses need useful cars to transport goods in our large country and obviously the single cab bakkie fits the bill nicely.
To top this off, you can claim up to 0,6 % of cost of the bakkie (excl. VAT) back per month, if it's used for company use. With our mostly sunny climate we can get away with a single cab, perhaps with a canopy on the back if you need to transport items that need protection from the elements or high risk items that need to be locked away. What remains a bit of a mystery though, is why there are so many more bakkies than panel vans, as businesses can claim VAT on both types of vehicles.
Panel vans and mini vans make up roughly 5% of all new cars sales and 20% of all new LDV sales in South Africa. Panel Vans are hugely popular in Europe, I'm guessing but I think it's mostly because of the harsher winter climate where you need the protection of a closed cabin for working in and for transporting dry goods.
So who's buying bakkies?
Up to 50% (?) of South Africa's GDP is made up of industries that rely quite heavily on bakkies. 45% of South Africa's GDP is made up SMME's which are obviously interested in the VAT implications of buying a bakkie, and 12% in the farming and related agricultural industries (3% pure farming) which rely on bakkies for transporting equipment and supplies. This makes up the bulk of all new bakkie sales in South Africa.
Also, businesses may only claim on single cab (2 door) and super cab/club cab bakkies (Ford Ranger). Businesses cannot claim on
double cab bakkies
as they are considered a luxury vehicle.
The big mystery is why we see so many double cab bakkies on our roads? I have a theory, it's probably just because they are useful! Who doesn't think of calling a friend with a bakkie when it's moving day, or when you need to transport that couch you bought?
They are just useful cars to have around, and when you're a small business owner, or a farmer, or an outdoors man with a family, then the good old double cab bakkie is one of the most versatile cars that you could own. I'm not sure that you could fit your braai, your step mother, your kids, the dog and your mountain bike into a panel van comfortably for the weekend, but I'm pretty sure that it's been done with a bakkie!
Of course, sometimes it's simply a question of having the right tool for the job. I am reminded of a business man who arrived at a used car dealership in a rather smart BMW and was looking to trade it in on an older model bakkie. When asked why the man wanted to make this curious exchange, he replied that he was a builder and his business was struggling to get the tenders he had previously achieved so easily.
He had done some thinking and after a few weeks he realised that his previous success had been when he arrived for the meetings in his old work bakkie. Clients expected to see a builder arriving in a bakkie with brick dust on the side, not a shiny new BMW that exuded wealth and implied that he was going to be an expensive builder!
Resources
*It was not possible to find reliable sales information for the European Union.
http://www.info.gov.za/aboutsa/agriculture.htm
http://www.gsb.uct.ac.za/Newsrunner/Story.asp?intContentID=282
http://online.wsj.com/mdc/public/page/2_3022-autosales.html
http://www.team-bhp.com/forum/indian-car-scene/127239-september-2012-indian-car-sales-figures-analysis.html
http://www.abs.gov.au/ausstats/abs@.nsf/mf/9309.0